Wednesday 29 April 2020
Here is our summary of the day's hottest RNS alerts from across London's Alternative Investments Market (AIM).
Novacyt S.A. (NCYT.L)
COVID-19 update and notification of final results
Novacyt, an international specialist in clinical diagnostics, provided an update on its polymerase chain reaction (PCR) test for COVID-19, developed by Primerdesign, the Company's molecular diagnostics division based in the UK.
Sales
As of 28 April 2020, Primerdesign has sold, received orders for or has been contracted to deliver over £90 million (€103 million) of its COVID-19 test. This figure includes the contracted minimum amount of test orders from the recently signed supply agreement with the UK's Department of Health and Social Care and initial orders received to date from the collaboration with AstraZeneca, GSK and the University of Cambridge.
Novacyt is now supplying its COVID-19 test to more than 100 countries and approvals for the test have recently been received from Malaysia and Ecuador. The Company continues to increase its sales level into the US market and is evaluating potential options to further expand its presence in this important market.
Manufacturing capacity
On 15 April 2020, Novacyt announced plans to increase manufacturing capacity to approximately eight million tests per month. The Company is on track with this scale-up and expects to achieve at least this level of output during June 2020. In addition, Novacyt has signed manufacturing partnership agreements with two further contract manufacturers based in the UK. This provides Novacyt with a total of six sub-contract manufacturers in addition to its own manufacturing sites in Southampton and Camberley, which provides greater contingency and the flexibility to scale-up its manufacturing outputs beyond eight million tests per month when necessary.  
Research and development update
As announced on 15 April 2020, Novacyt has been working to address the current reported global shortfall in extraction reagents required to perform PCR testing through the development of a new extraction technology. This technology avoids the use of magnetic beads commonly used in the extraction process. The development of a new "direct-to-PCR" extraction method, Exsig™ Free, used prior to running the Company's COVID-19 test, will therefore remove the need for scarce reagents used with magnetic beads and significantly reduces the number of extraction steps, allowing faster cycle times, higher throughputs and cost savings. The Directors believe this innovation should facilitate an increase in testing capacity for COVID-19, removing a current bottleneck in sample processing for laboratories. Development is progressing well and Novacyt is on track to launch this new extraction technology in May 2020.
Notification of 2019 final results
Due to a longer review process of the financial statements caused by COVID-19, the Company now intends to report its audited results for the year ended 31 December 2019 during the week commencing 11 May 2020.
For the full RNS, see: https://www.investegate.co.uk/novacyt-s-a---ncyt-/rns/covid-19-update-and-notification-of-final-results/202004290700042374L/
EKF Diagnostics (EKF.L)
UK contract for COVID-19 sample collection kits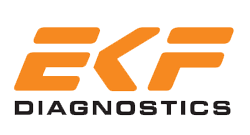 EKF Diagnostics Holdings plc, the AIM quoted point-of-care business, announced that it has signed an agreement with Source BioScience UK Ltd which provides Laboratory testing services for the NHS, to supply PrimeStore MTM, a novel patented sample collection device, to be used for its growing COVID-19 testing service.
Yesterday, the Company announced that is in the final stages of establishing a UK production line for the PrimeStore MTM sample collection kits at its site in Penarth, South Wales, to meet increasing demand. The Penarth site is expected to produce 12,500 sample collection tubes a day once normal production is established, with smaller early batch volumes expected to be shipped to Source BioScience next month.
Source BioScience, which provides ISO:15189 Laboratory testing services for the NHS and private healthcare, is working with a number of businesses providing them COVID-19 testing services of their staff to allow business to bring back staff who may be self-isolating due to concerns over infection or infection of a family member. Being able to use the PrimeStore MTM transport media allows a significant benefit of removing the cold chain transportation that is a necessary protocol for other transport media.
EKF is a contract manufacturer for the PrimeStore MTM sample collection device, an FDA-approved and CE-marked device owned and created by Longhorn Vaccines and Diagnostics LLC ("Longhorn"), a US company. PrimeStore MTM deactivates viruses, bacteria, fungi and mycobacterium tuberculosis allowing safe sample handling and transport, greatly reducing risk of infection. The device was invented in 2006 in preparation for a worldwide pandemic and is designed to de-activate pathogen rapidly and stabilise the RNA for up to four weeks with no requirement for cold storage. This makes the logistics of sample collection less expensive and allows testing to be more readily available to institutions and businesses that need to test staff regularly.
For full RNS details, see: https://www.investegate.co.uk/ekf-diagnostics-hldg--ekf-/rns/uk-contract-for-covid-19-sample-collection-kits/202004290700042370L/
Condor Gold Plc (CNR.L)
Permitted Open Pit Mineral ResourcesTo >1 Million Oz Gold
Condor Gold announced that it has been granted an Environmental Permit for the development and exploitation of gold from the high grade Mestiza open pit. The Mestiza open pit hosts 92 thousand tonnes ("Kt") at a grade of 12.1 g/t gold (36,000 oz contained gold) in the Indicated Mineral Resource category and 341Kt at a grade of 7.7 g/t gold (85,000 oz contained gold) in the Inferred Mineral Resource category. The Mestiza open pit compliments the already permitted La India open pit which hosts 8,377Kt at a grade of 3.1 g/t gold (837,000 oz contained gold) in the Indicated Mineral Resource category and 883Kt at grade of 2.4 g/t gold (68,000 oz contained gold) in the Inferred Mineral Resource category. La India open pit has a robust, economically viable Pre-Feasibility Study ("PFS") with Mineral Reserves of 6.9 million tonnes ("Mt") at 3.0 g/t for 675,000 oz gold. Following the permitting of the Mestiza open pit Condor has just over 1M oz gold open pit Mineral Resources permitted for extraction inclusive of a Mineral Reserve of 6.9Mt at 3.0g/t gold for 675,000 oz gold.
Highlights:
1 million oz gold open pit Mineral Resources, including Mineral Reserves permitted for production

The permitted La India open pit which hosts 8,377Kt at a grade of 3.1 g/t gold (837,000 oz contained gold) in the Indicated Mineral Resource category and 883Kt at grade of 2.4 g/t gold (68,000 oz contained gold) in the Inferred Mineral Resource category

The permitted Mestiza open pit hosts 92Kt at a grade of 12.1 g/t gold (36,000 oz contained gold) in the Indicated Mineral Resource category and 341Kt at a grade of 7.7 g/t gold (85,000 oz contained gold) in the Inferred Mineral Resource category

Mestiza open pit permitted to deliver robust diluted tonnage of 600Kt at 5.76 g/t gold for 111,100 oz gold

The permitted high grade Mestiza open pit adds flexibility to the mine schedule, potentially improving project economics and extending the life of mine
For full RNS details, see: https://www.investegate.co.uk/condor-gold-plc/rns/condor-receives-permit-for-mestiza-open-pit/202004290700032316L/